Boy Scout Memorabilia Prices Realized Guide: The $1000+ Club
Collectors,there's one central question when trying to buy, sell, or trade Boy Scout memorabilia…What is it worth?   But what if there were a Prices Realized Guide that contained thousands of images, descriptions, and all historical data?  What if there were a guide written just for you that contained hundreds of the best items known to have sold in your field over the last year – would you want it?
As the publisher of the Scouting Hot Finds Newsletter I track the best items in the Boy Scout category of eBay and send out multiple newsletters during the week to thousands of interested Scouters.  Now, after a year-long project I am rolling out a valuable reference guide that took hundreds of hours to compile.  The Boy Scout Memorabilia Prices Realized Guides are a series of eBooks that focus on specific areas of collecting interest in the hobby.  Each book documents all known items that sold for more than $100 from that niche.  The guides contain all of the historical information about that sale including the images, sales price and descriptions so that you can reference the very best items for your collection.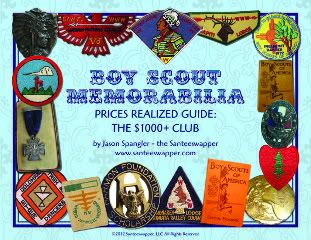 The first eBook is now available.  I'm calling it the $1000+ Club because it features 126 auctions that sold for $1,000 or more on eBay last year.  Would you believe the top seller went for more than $15K! 
I've priced this first edition well below the time and effort that went into creating it because I want to introduce this eBook concept to Scouting memorabilia collectors.  My hope is that if you fall in love with this first Prices Realized Guide then as I publish the future editions over the coming weeks you will come back for more.  I invite you to purchase the $1,000+ Club for just $2.99.  It's 83 pages long and contains great historical information on the best Scouting items that sold in 2011.  You can find old World Jamboree patches, lots of Order of the Arrow issues, Insignia, and more highlighted in this book. The images on this cover show you just some of the items that made it into this exclusive club.  If you enjoy reading the Scouting Hot Finds Newsletter then this guide is a must have.
I am selling the eBook here on my website using a world class service known as E-junkie.  They are the top seller for digital products and a respected brand.  You can use the large button below to order the book.  I accept PayPal but you can also use any of the major credit cards to submit an order.  Once your payment goes through you will get a link that will allow you to download the PDF.  The beauty of an eBook is that you can get it instantaneously and I've built in numerous hyperlinks that really enhance the product.  I'm convinced that once you see it that you will consider it the best purchase you've made in a long time.  For less than the cost of a council strip in the Scout shop you can have this 83-page reference guide for just $2.99.  Considering the hundreds of man hours it took me during 2011 to archive and assemble these guides I think that's a great deal.
Upcoming guides in the series include:
World Jamboree (Including Rover Moots) – February 29
Eagle Scout (Including Medals, Patches, related items) – March 14
Shoulder Insignia & Uniforms (Including Region items) – March 28
Books & Paper (Including posters, stamps, certificates) – April 4
Camp Memorabilia & Philmont (Including high adventure) – April 18
Equipment & Knives (Including all blades, and misc. items) – April 25
Merit Badges (Including sashes) – May 2
Miscellaneous Lots (Lots that do not fit into another category) – May 16
Medals & Awards (Including all pins and rings) – May 30
National Scout Jamboree (Including JSPs) – June 6
Baden Powell & International Items – June 20
OA Southern Region (Includes conclaves) – June 27
OA Northeast Region (Includes conclaves) – July 4
OA Central Region (Includes conclaves) – July 11
OA Western Region (includes conclaves) – July 18
For those of you who are looking for a version that is easily compatible with your E-reader then I've got good news for you.  I'm teaming up with my friend Todd Kelly at Big Rock Publishing to place the guides for sale in the Kindle Store as well as other electronic platforms such as iTunes.  This is in the works and we hope to have it ready by the end of the month.  I'll make an announcement soon about this when we are ready to roll.