So what is the Pan-American Jamboree?
Recently in the Hot Finds I saw some heavy bidding on a lot of patches and mentioned that I didn't even know what this event was. Here is the group (now finished auction) that I was talking about. The auction got 12 bids, over $1K and still didn't meet the reserve. See under the picture for the explanation I got from a Hot Finds reader.
Jamboree Pan-Americano Pan-American Set Five Badges Participant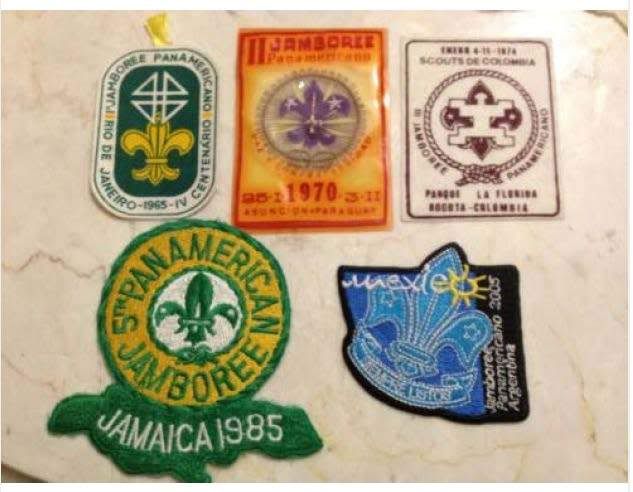 So I got an explanation that I want to share with everyone to pass on the knowledge!
"Jason, you never heard of the Panamerican Jamboree? The World Bureau is divided into regions, the regions sponsor their own regional events. Plus, some American Council overseas, such as Far East and Transatlantic participate and sometimes host other international events, some sanctioned by WB some merely between host nation and BSA Council. I served on boards of FEC and still serve on TAC. The Asia Pacific Region hosts many of their events in Philippines. FEC and BSN/BSJ rotate hosting the Patroloree in Japan, and the Patrolorette in Okinawa. TAC supports Intercamp which is now being planned in Germany, sometimes it is in Kanderstag, Switzerland, home of the international camp–a very cool place. San Diego council will be having an international camporee in Mexico this spring that also rotates hosts. They are all long standing events that are more than 50 years old. When I was young Scout in Panama, I attended the Panamerican Jamboree that worked to clear jungle at Ft. San Lorenzo, a fort captured by the pirate Henry Morgan. That was much fun. "
Thanks for sharing Dan!